"I've been 40 years discovering that the queen of all colors was black." 
― Pierre-Auguste Renoir
Original Limited Edition Works On Paper: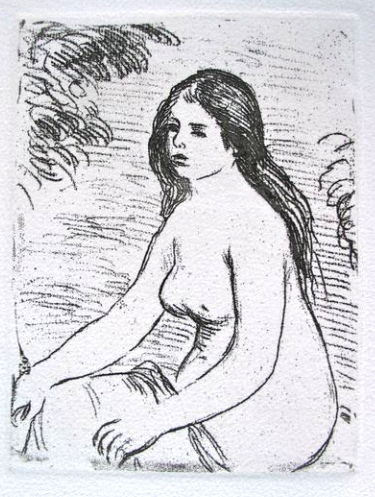 Pierre Auguste Renoir was born on February 25, 1841, in Limoges and grew up in Paris. He worked as a commercial artist for several years and copied at the Musée du Louvre before entering the École des Beaux-Arts in 1862 to study for one year with Emile Signol and Charles Gleyre. At Gleyre's private studio, he met Frédéric Bazille, Claude Monet, and Alfred Sisley, who joined him in plein-air painting. In 1864 Renoir's first submission to the official Salon was accepted, and he began executing portrait commissions. The following year he visited the village of Marlotte near the forest of Fontainebleu for the first of many summers; he also met Gustave Courbet. His work was accepted intermittently at the Salon until the early 1870s. In 1869 Renoir met Paul Alexis, Paul Cézanne, Edmond Duranty, the photographer Nadar (Félix Tournachon), and Emile Zola, and often painted with Monet. In 1871, after army service during the Franco-Prussian War, he returned to Paris. In 1872 Renoir met the dealer Paul Durand-Ruel and visited Gustave Caillebotte with Monet. He participated in the Salon des Refusés in 1873 and in the first Impressionist exhibition in 1874. He took part in the second, third, and seventh Impressionist shows of 1876, 1877, and 1882, but declined to show in the other four. Financial difficulties forced Renoir and other Impressionists to organize an auction of their work at the Hôtel Drouot in 1875.
During the late 1870s Renoir associated with Cézanne, Jules Champfleury, Paul Guillaumin, and the paint dealer Père Tanguy. From 1878 to 1883 he showed annually at the Salon. He visited Algeria and Italy in 1881–82. In 1883 Durand-Ruel gave him a solo exhibition. That same year Renoir traveled to the islands of Jersey and Guernsey, and to L'Estaque to see Cézanne. He exhibited with the group Les Vingt in Brussels in 1885, 1886, and 1889. He began a lifelong association with Stéphane Mallarmé in 1887. In 1890 he participated in the Salon for the last time and was awarded the medal of the Légion d'Honneur. Despite failing health, Renoir continued to work until his death on December 3, 1919, in Cagnes-sur-Mer, France. (-From The Guggenheim.org)