"The greatest thing you'll ever learn is just to love and be loved in return." -Lautrec
Original Limited Edition Works On Paper: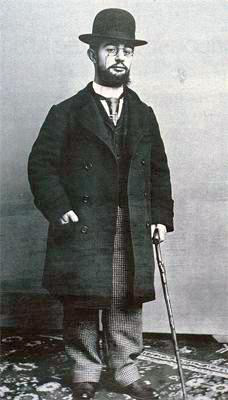 Born on November 24, 1864, in Albi, France, Henri de Toulouse-Lautrec pursued painting as a youth and went on to create innovations in lithograph drawing. He became highly famed for his posters, influenced by Japanese styles and Impressionist Edgar Degas, and for imbuing marginalized populations with humanity in his art, including sex workers, as seen in his 1896 print series Elles. Other notable works include At the Moulin Rouge and The Streetwalker. Consumed by heavy drinking and suffering from various illnesses, he died on September 9, 1901, at the age of 36.

Henri de Toulouse-Lautrec was born into the aristocracy on November 24, 1864, in Albi, France. His parents, Adèle and Alphonse, were first cousins said to be descended from previous instances of family inbreeding, and as such Toulouse-Latrec and his cousins suffered related physical ailments. Both of Toulouse-Lautrec's femurs were fractured during his teens, a condition believed to have contributed to his later height, with the young man reaching a height just above 4 1/2 feet, having a full-length torso with shortened legs and walking with the use of a cane. (It has been hypothesized he suffered from pycnodysostosis — also known as Toulouse-Lautrec Syndrome — though others have questioned this.) He would also endure painful toothaches and facial deformities during his life as well.

Yet Toulouse-Lautrec, like other members of his family, would find solace in the world of art, taking up sketching before reaching his adolescence and honing his craft during his long periods of recuperation from health issues. He attended the Lycée Fontanes in Paris for a time in the early 1870s, and later studied with René Princetau and John Lewis Brown. These artists focused on animal portraiture and thus influenced some of Toulouse-Lautrec's sensibilities later in his career. In 1882, Toulouse-Lautrec decided to study under Léon Bonnat before working under Fernand Cormon the following year.

Some of Toulouse-Lautrec's most well-known works include the print The Englishman at the Moulin Rouge and the paintings At the Moulin Rouge (in which the artist depicted himself in a group mix) and Rousse, showing a woman in a café. As opposed to many of his contemporaries, art critics have pointed out that Toulouse-Lautrec was also known for his humanistic, realistic depictions of women, eschewing fantasy to accurately reflect the circumstances of many of the people he came to know. 

Many of his pieces also captured sex workers in moments beyond erotic objectification. This idea was seen in Toulouse-Lautrec's famed 1896 brothel series of prints, Elles, as well as in the 1897 painting Woman Before a Mirror.
"Lautrec presents her neither as a moralizing symbol nor a romantic heroine, but rather as a flesh-and-blood woman . . . as capable of joy or sadness as anyone," said Cora Michael, curator of prints and drawings at the Metropolitan Museum of Art, in reference to the latter work. "Indeed, the directness and honesty of the picture testify to Lautrec's love of women, whether fabulous or fallen, and demonstrates his generosity and sympathy toward them." 

In 1884, Toulouse-Lautrec moved to the Montmartre section of Paris, an area known for its bohemian life, which included live musical performances, bars and brothels. He created art to accompany the music of singer/composer Bruant, who also owned a cabaret where Toulouse-Lautrec was able to showcase his pieces. Over time, Toulouse-Lautrec built a stellar reputation with his depictions of regular Montmartre denizens and celebrities. Some of his most prominent subjects included the stage star Yvette Guilbert, as well as dancers like Jane Avril and Loïe Fuller, with the latter known for her luminous, skirt-swirling dancing.
Toulouse-Lautrec created works on canvas yet also chose to display his work in the more popular medium of posters, thus becoming a highly sought after creative force known for his unique style. He was greatly influenced by Japanese ukiyo-e woodblock printmaking as well as by fellow artist and Impressionist Edgar Degas, who lived nearby at one point.

Though presenting himself as a witty, fun man about town, Toulouse-Lautrec suffered greatly due to his physical ailments as well as past family trauma, with his father never accepting his son's decision to become a professional artist. He had also contracted syphilis, which further impacted his health. As he had for much of his adult life, Toulouse-Lautrec turned to alcohol to deal with his pain and would ultimately drink himself into oblivion. He had a nervous breakdown in 1899 after his mother, whom he was close to, decided to leave Paris, and the artist was committed to a sanitarium for several months. 

Henri de Toulouse-Lautrec died on September 9, 1901, at the Château Malromé in Saint-André-du-Bois at 36 years old, leaving behind more than 700 canvas paintings, 350 prints and posters and 5,000 drawings, among other works. As such, he is seen as a seminal pioneer to a number of movements, including the world of pop art, and is an early forerunner to later icons like Andy Warhol. In 1994, the biography Toulouse-Lautrec: A Lifewas published, written by scholar Julia Frey, adding prose to an array of art publications on his work. (-From Biography.com)