"Have no fear of perfection; you'll never reach it." -Salvador Dali
Original Hand-Signed Limited Edition Works On Paper: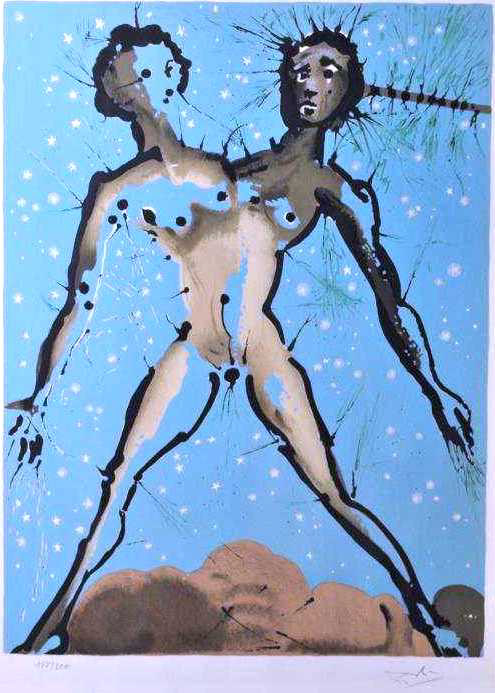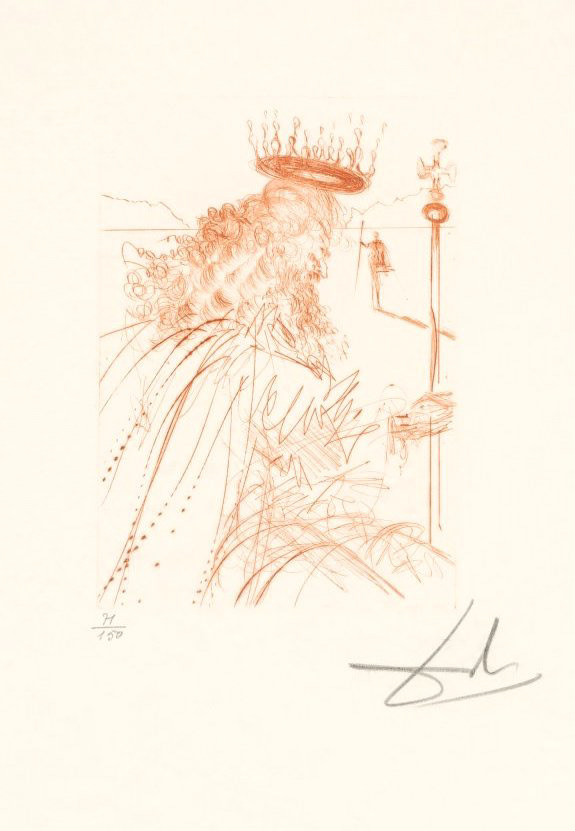 Salvador Domingo Felipe Jacinto Dali I Domenech was born on the 11 May 1904 in Figueres, Spain and even from a very young age, he was destined to become one of the most prolific artists of all time. 
The striking and somewhat bizarre images depicted in his paintings solidified his name in the Surrealist movement and his artwork is still revered by many acclaimed art critics to this day.

Dali spent his childhood between Figueres and the family summer home in the coastal fishing village of Cadaques, both of which were to feature prominently in his artwork.
His brother, who died nine months before Dali was born from gastroenteritis and also named Salvador, also featured in his paintings.
Dali claimed that when he was five years old, his parents took him to his brother's grave and told him that he was the reincarnation of his brother.
His parents encouraged his talent and even built him his first art studio in Cadaques where he spent a great deal of time producing impressive charcoal drawings.
He attended the Colegie de Hermanos Maristas and the Instituto in Figueres, where his reputation as a daydreamer and an eccentric began. In 1919, his first art exhibition was held in the Municipal Theatre of Figueres.

Following the death of his mother to breast cancer in 1921, he attended the Academia de San Fernando in Madrid where he was heavily influenced by several different artistic movements such as metaphysics and cubism.
It wasn't long before his talent as an artist and his flamboyant, eccentric ways gained a great deal of attention.
After being expelled from school for being disruptive and egotistical, Dali took several trips to Paris where he met renowned intellectuals and painters such as Pablo Picasso and Joan Miro, the latter of whom introduced him to the Surrealist movement.
From 1929 onwards, Dali produced many surrealist paintings that are often described as collages of his dreams and subconscious thoughts. He also collaborated with Surrealist film director Luis Brunel in making two short films.
Dali officially joined the Surrealist Group and by 1930 he was considered to be a notorious figure in the Surrealist movement. His most famous painting, arguably the most famous of all surrealist paintings, The Persistence of Memory, was completed in 1931. This world-renowned painting, often called The Soft Watches or The Melting Clocks, was a clear example of Dali's unique talent as an artist.

Despite meeting in 1929, it wasn't until 1934 that Dali married his muse and inspiration, Elena Ivanorna Diakonova, also known as Gala. A Russian immigrant who was ten years his senior, Gala took care of the business side of things, including all legal and financial matters and she featured prominently in not only his life, but also his artistry.
As well as his talent for painting, he was recognised as being eccentric; wearing odd clothing and sporting a flamboyant moustache influenced by one of his heroes, the Spanish master painter Diego Velazquez.
In the mid-1930s, he famously showed up to a ball held in his honour wearing a glass case across his chest containing a brassiere.
His controversial behaviour started to overshadow his magnificent talent as an artist and the critics became more concerned with his acts of non-conformity than his artwork.
In 1934, a 'trial' was held and Dali was expelled from the Surrealist group. Several theories suggest that this was mainly due to his disruptive nature and some hint that his apolitical views were greatly frowned upon.
Despite his expulsion, he continued to produce highly rated Surrealist paintings such as Swans Reflecting Elephants and Metamorphosis of Narcissus, both of which were completed in 1937. He participated in Surrealist art exhibitions into the 1940s.
Dali's classical movement came between 1942 and 1948. Throughout this period, Dali and Gala were living in the US. While World War II enveloped Europe, Dali continued to produce breath-taking pieces of art and in 1941, he had his own exhibition in the Metropolitan Museum of Modern Art in New York. His autobiography, The Secret Life of Salvador Dali, was published in 1942.

After returning home in 1948 with his wife, Dali spent the next fifteen years creating 19 large canvasses that incorporated optical illusions, geometry and Surrealist images. The most famous of these paintings were The Hallucinogenic Toreador and The Sacrament of the Last Supper. 
Between 1960 and 1974, Dali helped to build the Teatro-Museo in Figueres, where many of his paintings can still be seen today.
In 1980 he retired from painting due to a motor disorder that prevented him from working and in 1982, his beloved Gala died. Confined to a wheelchair following a house fire, Dali lived out his last few years in seclusion and died in 1989 of heart failure and respiratory problems.