"Painting...we do not talk about it, we do not analyze it, we feel it." - Bernard Buffet
Original Hand-Signed Limited Edition Works On Paper: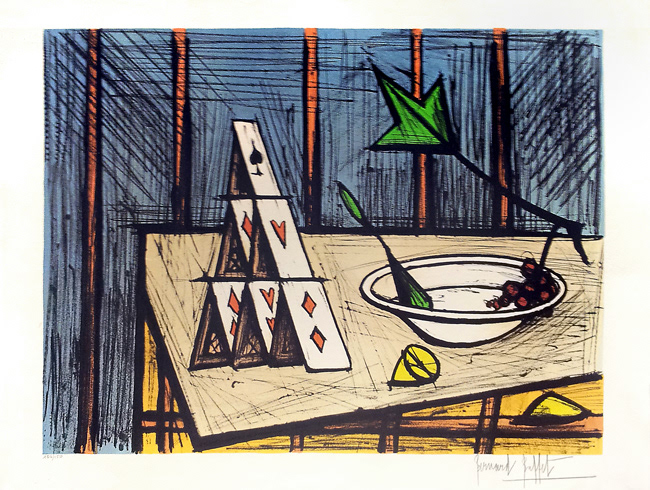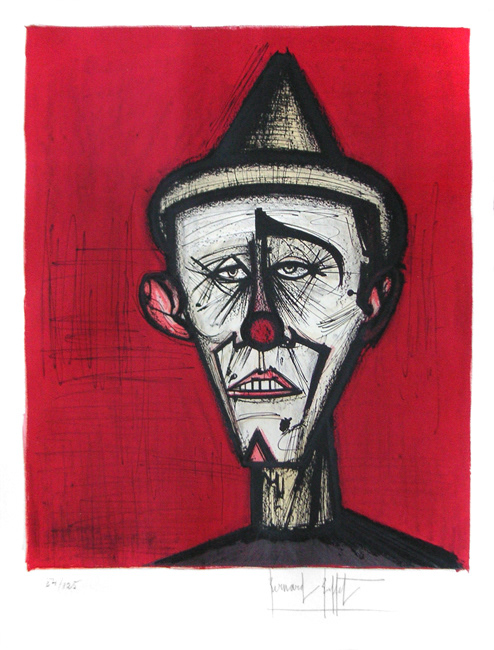 Original Limited Edition Works On Paper:
Sustained by the picture-dealer Maurice Garnier, Buffet produced religious pieces, landscapes, portraits and still-lifes. In 1946, he had his first painting shown, a self-portrait, at the Salon des Moins de Trente Ans at the Galerie Beaux-Arts. He had at least one major exhibition every year. Buffet illustrated "Les Chants de Maldoror" written by Comte de Lautréamont in 1952. In 1955, he was awarded the first prize by the magazine Connaissance des Arts, which named the ten best post-war artists. In 1958, at the age of 30, the first retrospective of his work was held at the Galerie Charpentier.
On 12 December 1958, Buffet married the writer and actress Annabel Schwob. They adopted three children.[3] Daughter Virginie was born in 1962, daughter Danielle in 1963 and son Nicolas was born in 1973. Bernard Buffet was named "Chevalier de la Légion d'Honneur" in 1973. 
On 23 November 1973, the Bernard Buffet Museum was founded by Kiichiro Okano, in Surugadaira, Japan.
At the request of the French postal administration in 1978, he designed a stamp depicting the Institut et le Pont des Arts – on this occasion the Post Museum arranged a retrospective of his works.[4]
Buffet created more than 8,000 paintings and many prints as well.
Buffet committed suicide[5] at his home in Tourtour, southern France, on 4 October 1999. He was suffering from Parkinson's disease and was no longer able to work. Police said that Buffet died around 4 p.m after putting his head in a plastic bag attached around his neck with tape.
The popularity of Buffet's work, as well as the level of media attention around his lifestyle, were quite high in the 1950s and 1960s. Although he kept on painting throughout his life, there was a certain decline in interest in his work in the later decades of the 20th century. Especially so in his native country. This decline in popularity was partly influenced by his fall from grace with French art pundits, whose support and interest shifted away from figurative art. 
In the 21st century there has been a renewed spike in interest in the work of Bernard Buffet. With some successful exhibitions in France and throughout the world. In 2016, British author Nicholas Foulkes published Bernard Buffet: The Invention of the Modern Mega-Artist'', in which he offers a controversial biographical account of Buffet's life and work. 
In recent years, his children, as well as grandchildren, UK resident Timothé (b. 1995), Taïmour (b. 2000), Manon and Manolo, have been actively working towards promoting the work of Bernard Buffet. (-From Wikipedia)